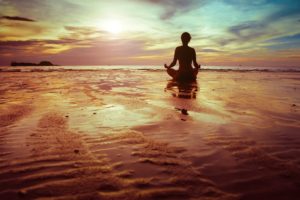 Image belongs to rightful owner.
Hello everyone. Did the title of this blog post get you? Sorry, it won't be about the master of meditation but it will be about my thoughts and experience on meditation. Feel free to keep reading or if you aren't interested, check out our other posts!!
Anyways, during my sophomore year in college, I had taken a class on religions of the world. Three fourths of the way through the class, there was an assignment that required us students to physically attend a religious event at a site of our choice. My friend, Nancy, and I decided to go to the Zen Meditation session at Bluestone Zen Practice Community (dedicated to the practice of Zen and the fundamentals of Buddhism). I never really thought about how hard meditation could be. It just seemed so easy, having to sit most of the time. After this session and lessons from class, I realized that meditation was more than just having your eyes closed and breathing.
Nancy and I entered the building not knowing what to expect. It was around 7am so there were no lights turned on. Curtains were not put up either so it created darker/dimmed lighting. Candles were lit and it was quiet, but in a way where everything just seemed so soothing and peaceful. The session finally started when it was time. We all sat on a pillow on the floor. There wasn't much talking at all and so Nancy and I just did our best to follow along. The whole experience was eye opening, showing me that there is so much more to it. Having to clear my mind while meditating was so much harder than I thought. I kept talking to myself in my head and thinking about trying not to think. I just couldn't seem to clear my mind, and still haven't mastered it. In the end, I appreciated the art of meditating a lot more. I definitely saw how this could be a really good routine for my body and mind.
After reading the article written by Dr. Sanjay Gupta on lessons from meditating with the Dalai Lama, it made me feel a sense of comfort and happiness. He talked about how he had a personal one-on-one meditation session with the Dalai Lama. The part that I loved from his article was the part where he talked about how the Dalai Lama smiled and laughed while replying back with "After doing daily for 60 years, it is still hard." I felt so comforted that someone as holy as the Dalai Lama was so sweet and encouraging. The overall article also talked about how Dr. Sanjay Gupta became a changed man because of this experience and the decision of applying what he learned to his everyday life routine.
Giving things a chance before judging was the reminder that came to me after this experience and again, after reading this article. Meditation is a way to calm the mind and help people with their body. It is just so cool to me now because there is such a deep meaning to it, and it helps a person in so many ways. Keeping the body healthy and staying in shape is so important but sometimes we forget to help the mind. Definitely give meditation a try. It won't be easy but it will definitely benefit and satisfy you.
—
I highly recommend you to read Dr. Sanjay Gupta's article. Click the link below to go directly to the webpage.
http://www.cnn.com/2017/02/15/health/sanjay-gupta-dalai-lama-meditation/index.html