According to the 2010 U.S. Census the eighth largest Asian American populations in Minnesota are the Hmong, Asian Indian, Chinese, Vietnamese, Korean, Filipino, Laotian, and Cambodian communities. Specifically, 27 percent of the total population identify themselves as Hmong, 15.5 percent are Asian Indian, 11.7 percent are Chinese, 11.1 percent are Vietnamese, 4.9 percent are Laotians, and 3.9 percent are Cambodians (Figure 2).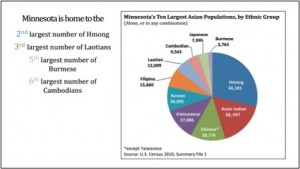 Minnesota is home to over 40 different Asian Pacific Minnesotan immigrant and refugee communities.  Each community has its own strengths and challenges that may be unique to that ethnic community.  The following is an overview of how the Hmong American community is faring in Minnesota.
Hmong American Community Overview
The Hmong American community is the largest AAPI ethnic community in Minnesota and is second to California which has the largest Hmong American population in the U.S.1 APA ComMNet was able to survey a larger number of respondents from the Hmong American community – almost three times more than any other ethnic AAPI groups compared to other AAPI groups. .  APA ComMNet REACH CORE project staff and volunteers met with Hmong American community members and leaders throughout the Twin Cities to understand the community's strengths, challenges and other social and environmental factors affecting its overall health and wellbeing.
Hmong American Community Strengths
In general, the Hmong American community perceived its quality of life in the Twin Cities as fair or improving.  Hmong Americans stated that they are healthier living here in the U.S. compared to their relatives in Thailand, Laos and other areas of Southeast Asia.  Several Hmong community members indicated that ample activities and opportunities exist for youth to be physically fit, reach their academic goals, and live to their fullest potential.  Numerous participants also expressed that Hmong American youth of today hold more degrees in higher education and are expected to live longer compared to their parents' generation. Furthermore, the Hmong American community pointed to an increasing number of political leaders, male and female, who assist in creating policies and programs that are aimed at improving the overall well-being of the community. Others also mentioned the large number of businesses and institutions created to serve members of the Hmong community.  Such factors have created a positive perception of the how the Hmong community is faring in the eyes of its members. Many Hmong Americans state that their most important community assets include their strong family foundation, clan network and their value of having a good education.
A 2010 report found that the household size of a typical Minnesotan Hmong family is 5.4 members, the largest household size among all AAPI ethnic groups.2   Hmong community members interviewed for this project said that having a large family is an asset because they rely on their family for support and assistance.  Chingla Thao, the Dean of Students at New Millennium Academy – a Hmong charter school in Minneapolis said he comes from a "community-dependent" community that values interdependence between members.  Thao added that this interdependence and the value of having a large family might be traced from the Hmong's agrarian culture.  According to Thao, more family members provide financial security:
"The Hmong often want bigger families in an event of a crisis, so the burden is shared by more people.  Having bigger families builds community and it helps us be independent in a way that we don't have to seek for outside help.  We can get that help and support internally, from each other."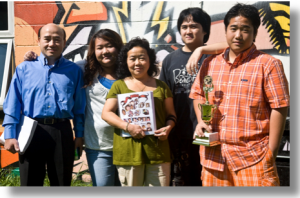 Education also is a priority for many Hmong community members who participated in this project. In recent years, more charter schools have opened its doors in the Twin Cities with a focus in providing culturally appropriate education to students of Hmong descent. When asked about the value of education, Thao stated that the Hmong community recognized early on that education was the "key and the way out of poverty." He mentioned that a phrase young Hmong American children consistently hear from their parents is "Rau siab kawm ntawv" or "work hard in school."
Hmong American Community
Some of the barriers to better health and wellbeing for the Hmong community are high rates of unemployment and poverty, limited English ability and unaffordable medical costs.  Over 12 percent of the Hmong community reported that they were uninsured.1   Hmong community members who participated in the project indicated that uninsured members at times seek medical care from Shamans to alleviate their physical and mental health issues (See side bar).  Hmong American families also use herbal remedies and may conduct healing ceremonies in the hospital and in the home. In addition, community members indicated that surgery and organ donation may not be acceptable as treatment for medical ailments and some members of the Hmong community believe that certain Western medicines may poison them, rather than help them.
While Hmong community members value physical activity, especially low-impact exercises such as gardening and walking, many Hmong community members identified the traditional diets as a health issue that needed to be addressed in the community.  Hmong Americans have among the highest obesity rates in comparison to other AAPI ethnic groups (Figure 3). White rice and fatty meats are considered a staple for many Hmong families while vegetables are often cooked with the meats and not eaten raw.  "Hmong people, in general, don't know what food is nutritional and what is good for the body, but through word of mouth, more people are learning about it," said a Hmong community member during his key informant interview.
1 Council of Asian-Pacific Minnesotans (CAPMN).  2012.  The State of Asian Pacific Minnesotans: 2010 Census and 2008-2010 American Community Survey Report.  St. Paul, MN.
2 Pierce PhD, Alexandra.  2010.  Health Disparities in Southeast Asian and African Refugee Communities.  Produced for the CAPI – Center for Asian and Pacific Islanders.  Minneapolis, MN.
REACH CORE Radio Talk Show: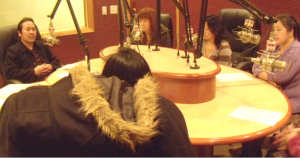 Hmong Community
Guest P. Vang: Yes. A few have medical insurance. However, there are others who do not have medical insurance due to unemployment or is not eligible to apply for medical insurance through the state.
Host Yang: Without getting access to medical coverage, is there anything else to help you with your health, or are you still looking for resources to help you with this area?
Guest P. Vang: Yes, we do need help. There are those who are in severe pain and in critical conditions who don't get access to healthcare and don't get treated due to the lack of medical coverage. Therefore, the only alternative our Hmong communities fall back on is to perform cultural practices; such as performing spiritual activities from a Shaman. Plus, if evil spirits is the cause of the person's sickness, then "spirit calling/healing" from a Shaman would work. However, if the cause of the sickness is due to diseases, then it is necessary to seek a physician and be hospitalized.