According to the 2010 U.S. Census the eight largest Asian American populations in Minnesota are the Hmong, Asian Indian, Chinese, Vietnamese, Korean, Filipino, Laotian, and Cambodian communities. Specifically, 27 percent of the total population identify themselves as Hmong, 15.5 percent are Asian Indian, 11.7 percent are Chinese, 11.1 percent are Vietnamese, 4.9 percent are Laotians, and 3.9 percent are Cambodians (See Figure 2).
Minnesota is home to over 40 different Asian Pacific Minnesotan immigrant and refugee communities. Each community has its own strengths and challenges that may be unique to that ethnic community. The following is an overview of how the Korean American community is faring in Minnesota.
Korean American Community Overview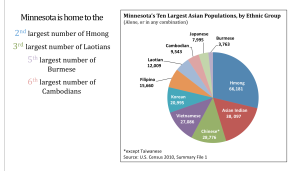 The Korean community in Minnesota is defined by three distinct populations: Korean immigrants who came to the state as wives of U.S. servicemen following the Korean War, Korean immigrants drawn by educational and professional opportunities, and Korean adoptees who were brought to the state by Minnesotan families after the end of the Korean War.[i] There are about 13,000 to 15,000 Korean adoptees in the state.[ii] Most members of the Koreans community in Minnesota are professionally employed with a median household income of $60,984.i   APA ComMNet REACH CORE project staff and volunteers met with Korean American community members and leaders throughout the Twin Cities to understand the community's strengths, challenges and other social and environmental factors affecting its overall health and well being.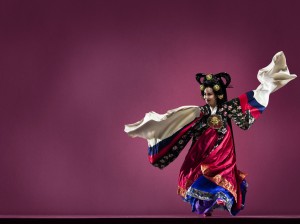 Korean American Community Strengths
In general, the Korean American community perceived its quality of life in the Twin Cities as one consisting of increasing financial wellbeing and higher educational and professional attainment. Ample activities and opportunities exist for Korean Americans to be academically, financially, and socially healthy.   Korean American members who participated in the project said they were proud of the their community's academic and professional achievements. More than half of the Korean American population over the age of 25 years old in the state has a college or professional degree and only 6.3 percent are unemployed.i   As a guest in the Korean Radio show stated, "Many Koreans in Minnesota have professional jobs. High education standard is one of characteristics of Minnesota. A good educational environment is the most important factor too." Korean Americans also identified having a good family relationship and relationship to the Korean community was important towards a healthy life in Minnesota. They added that maintaining a spiritual or religious practice, such as the Korean church, helps community members to be healthy.
Korean American Community Challenges
Korean American community members who participated in the project indicated that elders and newly arrived immigrants faced challenges in accessing appropriate health care services. Many stated that the lack of resources for limited English proficiency populations and affordable health insurance were among the issues that concerned Korean Americans. "Cost of private health insurance are high. Some of Koreans are still working to pay their health insurance. We have a private insurance before [turning 65 years old, when one is eligible for government subsidized health care]. We need to have solution for this," stated one guest during the Korean radio show. APA ComMNet survey results also showed that Korean Americans were less likely to do any physical exercise or see a medical professional and were more likely to have been diagnosed with diabetes and suffer a heart attack than most other AAPI groups that participated in this project (See Figure 4).
REACH CORE Radio Talk Show:
Korean Community
Host Park: What are the three most important factors for a healthy Korean community in Minnesota?
Guest Kang: Strong family relationship, healthy life style, and religious or spiritual values are the three most important factors. Strong family relationship can improve our community in many ways like low crime rate, child education, safe neighborhoods, etc. Keeping healthy life style will be helpful for our community to become healthy. Religious values are the most important one.
Host Park: I agree with that strong family relationship is one of the three most important factors. When one's home is happy, all goes well.
[i] Minnesota Historical Society, 2013. "Becoming Minnesotan: Stories of Recent Immigrants and Refugees." St. Paul, MN: Minnesota Historical Society. Retrieved January 8, 2013 (http://education.mnhs.org/immigration/)
[ii] Olson, Norma Smith, 2010. "We're From Here: New Book Gives a Visual History of Adopted Koreans in Minnesota." Minnesota Women's Press (September 10, 2010).