Each year, people make New Year's resolution goals that they want to achieve for the upcoming new year. It usually is a goal that seeks self improvement or changing things in one's life. It's not necessary to start out the years with goals or without, but it is good to at least have some idea of what kind of things you want to do or change either about yourself or your life.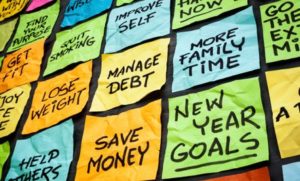 So what's the point of New Year's resolution goals?
It serve as a reminder of the goal that you want to achieve throughout the year
Motivates you to take action and stay on track with your plans
It is small stepping stones that can people take to achieve bigger goals
There are different goals for everyone, but the most common ones are:
Lose weight
Live a healthier lifestyle
Do well in school or go back to pursue education
Obtain something important (buying a home, getting a car, obtaining citizenship, etc.)
Travel more
Save more money
So what actions can you take to achieve your resolution goals?
Put a reminder in a notebook, cellphone app, or on a piece of paper on your fridge to constantly tell you what you want to do differently, achieve, or improve on
Plan and take small steps first (Putting aside $10 a month can help you buy something more valuable in the future)
Think about the reasons why you want to achieve your goals:

Is it for self-improvement? What about yourself specifically that you want to improve on? Your sociability/communication skills? Your physical state? Your living lifestyle?
Is education important to you? Do you plan to pursue higher education and beyond? What type of field that interests you that would need you to have a certain type of educational background?