"The theme for 2016 is "Accelerating Health Equity for the Nation." – www.cdc.gov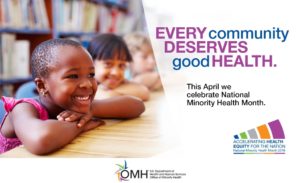 Picture belongs to www.hhs.gov
The goal of Minority Health Month is to bring awareness of health disparities and to promote health equity among our diverse communities. It's important to address health concerns and problems prevalent in different groups of people because there are things that we can do to help others live a safer and healthier life. Here are some ways in which people have implemented to help others:
Encouragement of breastfeeding among low-income and minority populations
Providing info on healthier food choices to children at home and school & bringing awareness to the increasing rate of child obesity
Educating communities that are at risk of certain health problems

"This first national study on Hispanic health risks and leading causes of death in the United States by CDC shows that Hispanics had higher death rates than Non-Hispanic whites from diabetes and chronic liver disease and cirrhosis (scarring of the liver). The report encourages the use of community health workers, also called promotores de salud, to provide resources to educate the Hispanic community about health risks and preventive services." – www.cdc.gov
What can you do as a participant?
Spread the words! Follow @MinorityHealth for great information on #healthequity & make sure to share on your social media!
Participate in an official (or related) events near you!
Click on the official website for info on events, social media, & more!