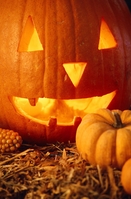 Halloween
Halloween, which dates back to Celtic rituals thousands of years ago, has long been associated with images of witches, ghosts and vampires. Today, Halloween has evolved into a celebration characterized by child-friendly activities, such as costumes, trick-or-treating and carving pumpkins into jack-o'-lanterns.
Dressed to Thrill

A sampling of occupations that one may dress up as for a Halloween costume:

The estimates of athletes, coaches, umpires, and related workers and detectives and criminal investigators are not statistically different from one another.

Spooktacular

4,471 The number of motion picture theaters (except drive-ins) in the U.S. in 2013 where one could possibly enjoy a horror movie. California (495), Texas (310), New York (273) and Florida (203) had the most of such establishments. There were 219 drive-in motion picture theaters in 2013 — Ohio had 21 and Pennsylvania had 20 drive-in motion picture theaters. Click here for table.
50,900
Acres of pumpkins harvested in the U.S. in 2013, with a total estimated production value of $149.9 million. Of the top six pumpkin-producing states, Illinois led the country by producing an estimated 547.6 million pounds of this vined gourd, followed by California, Ohio, Michigan, New York and then Pennsylvania. Pumpkins are frequently carved as decorations around Halloween.
$820 million
The estimated construction spending on theme/amusement parks in 2014. Halloween events at theme/amusement parks can be frighteningly fun. For more information about construction spending, please visit: <http://www.census.gov/constructionspending>.
1,148
The number of costume rental and formal wear establishments; they had a total of 6,574 paid employees across the nation in 2013 (for the pay period including March 12, 2013). Click here for table.
302
The number of broomstick and casket manufacturing establishments (for the more authentic witches and vampires); combined, these two industries employed 12,627 people and had a total value of shipments of $3.6 billion in 2012. Click here for table. $1.1 billion Dollar value of U.S. fresh apples exported in 2014. Whether bobbing for or dipping in caramel, apples can be a fun treat around Halloween. Source: U.S. Census Bureau, International Trade Statistics, Commodity Code 080810 https://usatrade.census.gov/
Who You Gonna Call?
89% Percent of households that had a cellular phone in 2011, compared with only 36 percent in 1998. The percentage of households with a cellular phone only (no landline) rose from less than 1 percent in 1998 to 28 percent in 2011. <http://www.census.gov/prod/2013pubs/p70-136.pdf> Click here for PDF.
Credits belong to rightful owner.