Many students return to school with new motivation, but it is quite hard to maintain it! Sometimes, you just want to give up because many things can affect you. But don't worry, you're not alone as many other students are going through the same problems. These tips will help you get through the year!
To feel good and energized, you need at least 8 hours of sleep! If your body is on a stable sleeping cycle, you will fall asleep much quicker. You'll find that you will feel better the next morning as you won't wake up exhausted.
Eat a balance meal with healthy snacks. It's normal for students of all ages to feel constantly feel hunger throughout the day. Chances are you may be tired, didn't get to eat a proper meal, or too busy to worry about eating right. But you can try to avoid unhealthy snacks and meals. Try to bring healthy alternatives to satisfy your cravings!
Along with eating well, try to live a balance life. That means make time for your education, family, friends, exercising, and free time. It will assure you more freedom to do what you need and want. So having a planner and being organized helps out a lot!
Ask questions in class! You probably don't want to stand out or feel less smart than other students in class, but chances are other students are wondering the same. It's all about trying to educate yourself without worrying what others may think of you.
Build positive relationships with peers and teachers! The closer you are with the people around you, you all can help and educate each other. Also, they provide new perspectives and knowledge that you may not know or have.
Take effective notes! Everyone has their own styles when it comes to note taking. But don't relentlessly write down notes without proper organization . You won't be able to find things easily when you need them to study. A popular note taking style is Cornell notes.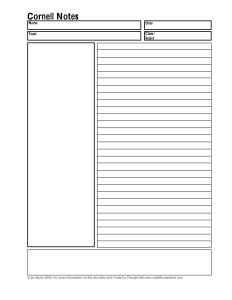 Picture credit linked here.